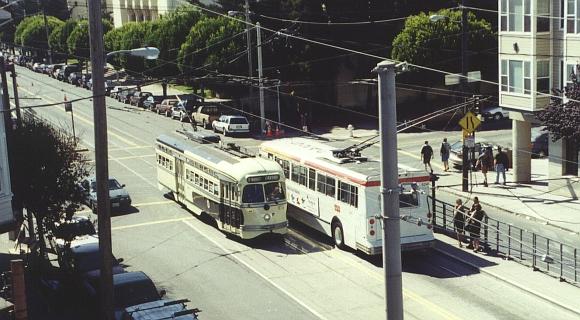 Traffic in San Francisco can be very different than in most other cities. Drivers have to watch for trolley buses and streetcars.
This particular sight at 16th and Church streets is not a routine sight. The streetcar on the left is an historic streetcar (#1056), painted in the colors of the Kansas City street car system. Usually the historic streetcars run along Market Street on the F-Market line. The J-Church line is used to transport the cars to and from their Balboa Park car barn, but the cars use a short line farther down Church at 17th Street to get from Church to Market.
On the day this photograph was taken, the Castro Street Fair was occurring along Market, preventing regular use of the F line from Noe Street west. So the historic cars ran a loop from Noe to 17th to Church and then back to Market.
This view is from the third-floor apartment where I lived at the time in 2000. The other vehicle is an electric trolley bus on the 22-Fillmore line. The bus is about to turn onto 16th Street for its run east to Mission Street and beyond. A frequent problem for buses at this intersection involves the electric wires from which they draw their power. Some buses can't negotiate the sharp turns and the poles fall off the wires. The driver then has to get out of the bus and maneuver the poles back on the wires, which can take upwards of five minutes or more.