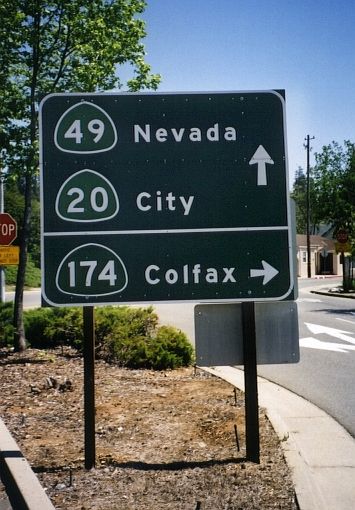 This sign, at the interchange of Route 174 with Routes 20 and 49 in Grass Valley, could use a touch-up. It sort of looks like CA 49 is pointing to Nevada while CA 20 is pointing to "City". Of course, what's being indicated is that CA 49 and CA 20 go to Nevada City (on the Golden Center Freeway).
From this point, CA 174 goes to Colfax, providing a shorter, somewhat more scenic route from the Grass Valley-Nevada City area to Interstate 80 compared to the route along CA 49.
Also note that the green color in the state highway "miner's spade" symbol is a slightly lighter green than the background green of the rest of the sign. As highly reflective signs are increasingly used in California, this distinctive California practice is expected to dwindle away, with the newer signs having only one shade of green.
A different sign assembly at this interchange is here. That photo and this photo were taken May 24, 2003.