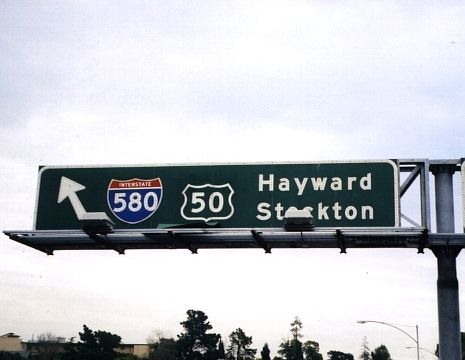 For many years, square pieces of green metal also known as "greenout" were affixed to several signs along Interstate 580 in Oakland, apparently covering up something.
Sometime around January 6, 2003, one of those metal squares came off. And what it showed was the long-defunct designation of US 50. US 50 now ends in Sacramento, but it once entered San Francisco via Stockton, Pleasanton, San Leandro, and Oakland.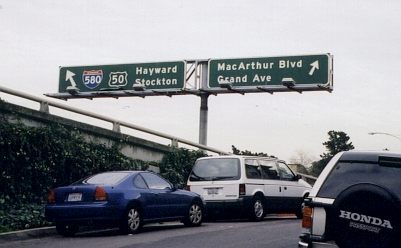 This sign is just east of Oakland Avenue where MacArthur Boulevard has an on-ramp onto I-580 just before it joins with a small street named Perry Place in the Adams Point district.
This is an old-style button-copy sign, but the US 50 outline does not have the old button reflectors. I had at first assumed that they were removed years ago when the shield was covered up.
Mike Wiley had a better explanation, one which he posted in misc.transport.road:
Pre-1978 lighted overhead signs in California did not have reflectors .... Reflectors were added to these signs after 1978. Since US 50 was "removed" from I-580 around 1964, it never got reflectorized.
These photographs were taken January 11, 2003. The sign went without greenout for almost a year, but late in December 2003, the old US 50 shield was covered up again.