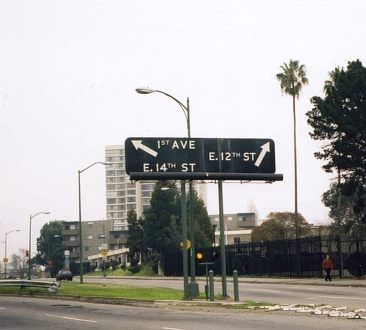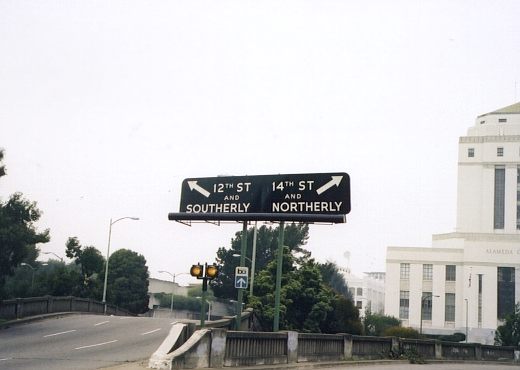 Along the south side of Oakland's Lake Merritt, just east of downtown, there's a freeway-like set of turns and tunnels where 11th, 12th, and 14th Streets come together for a few blocks. It's informally known as the 12th Street viaduct and dam over the south end of the lake.
The overhead signs directing traffic away from this mixmaster-like set of streets have a distinctive appearance. They're black signs with white lettering that was obviously hand-painted.
The sign for eastbound traffic (left) has faded a bit. Going westbound on 12th (right), you can see the Alameda County Courthouse in the background, which reinforces the Art Deco effect.
While the lettering looks like it's from the 1930s, the reality is that this set of streets was built after World War II, and completed in 1953. It actually has a name: the Frickstad Viaduct, named after Oakland city engineer Walter Frickstad. But I didn't know that until reading an article in the Summer 2010 edition of the Oakland Heritage Alliance News by Kathleen Leles DiGiovanni about the mini-expressway. DiGiovanni also reported that Frickstad was involved in the development of the ramps at the eastern end of the Bay Bridge, and helped bring to completion what was then called the Mountain Boulevard Freeway, now known as Highway 13.
This area is somewhat out of place with the urban park setting of the rest of Lake Merritt, and is slated for reconstruction in the next few years to make it seem much less like a freeway.
These photographs were taken January 13, 2003. Text was revised July 3, 2010 to add the viaduct's name and information about Walter Frickstad. Yes, the dam and viaduct were scheduled for imminent removal and reconstruction in 2003, and they were still scheduled for imminent removal and reconstruction seven years later.
Notwithstanding my snarky comment immediately above, construction work finally did begin on the viaduct later in July. These signs were removed, according to the Oakland Heritage Alliance News, which also reported in its Fall 2010 edition that, "The fate of the old SOUTHERLY NORTHERLY street sign remains unclear, though it is being stored for now." Local artist Erik Niemann is documenting the demolition at his Oakland 12th Street Project blog.