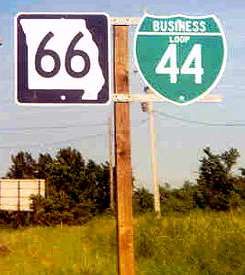 A lot of history in one sign assembly: Missouri 66 is the successor to the storied US 66 in the southwestern corner of Missouri. Business Loop 44 represents US 66's replacement, Interstate 44, which runs in Missouri from Joplin to St. Louis.
The Business Loop 44 sign uses a smaller, narrower font than usual.
The historic route of US 66 is marked with signs throughout the state as well.
Photo courtesy of David Backlin (taken May 2000)