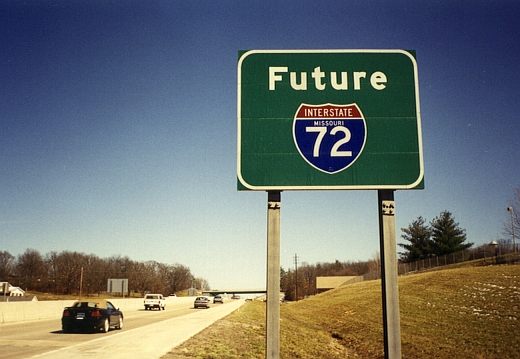 In 1998, this sign in Hannibal, Missouri along US 36 denoted its eventual status as Interstate 72. At the time, I-72 ended in Illinois four miles east of Hannibal. After the new Mark Twain Memorial Bridge was opened to traffic on September 16, 2000, the I-72 designation extended to US 36 in Missouri, stopping near US 36's interchange with US 61 on the west side of Hannibal. (My Interstate 72 page shows photos of the bridge under construction as well as the completed bridge.)
There are long-range plans to extend I-72 across Missouri to I-35 at Cameron, but significant upgrades along US 36 would be needed The estimated time frame given for the completion of I-72 across Missouri is anywhere from 10 to 15 years.
However, a four-lane route between Macon and Hannibal on US 36 is closer to happening, with a planned completion date in 2010.
In April 2005, five northeast Missouri counties voted on a special transportation district. The half-cent sales tax proposed for the district would, in combination with state bonds, have enabled a four-lane route to be built along US 36 by 2009.
Approval required a two-thirds majority of the votes cast in all five counties. The measure failed in one of the five counties. It was resubmitted for a vote in August 2005, and was approved in all five counties. Under an agreement with the Missouri Department of Transportation, a four-lane route along US 36 must be completed by 2010.