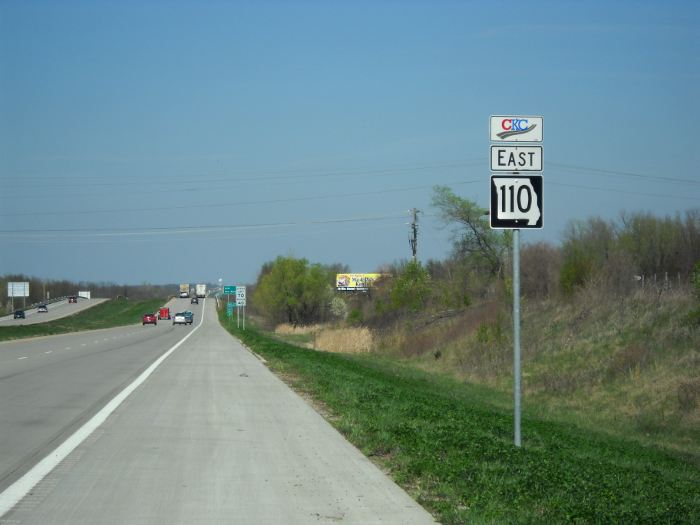 Photo courtesy of Matt Roberds (taken March 2012)
In January 2012, the Missouri Highways and Transportation Commission added the Missouri 110 designation to the Chicago-Kansas City Corridor in Missouri, running on Interstate 35 between Kansas City and Cameron and on US 36 between Cameron and Hannibal. In February or March, according to Matt Roberds, MoDOT began replacing Interstate 35 reassurance markers along the I-35 portion of the corridor with Route 110 markers. A MoDOT traffic engineer subsequently told Matt that MoDOT decided to use the 0.2-mile markers on I-35 (here's a wider view of the same area) as reassurance markers.
This Missouri 110 marker, denoting the Chicago-Kansas City Corridor along Interstate 35, is at the end of the northbound on-ramp from Missouri 92 in Kearney. A close-up provides a clearer view of the corridor designation that preceded the Route 110 designation by a couple of years.
Before the highway commission added the numeric designation for the corridor, this assembly was composed of the "CKC" banner for the corridor, a blue "North" banner, and a blue I-35 shield.