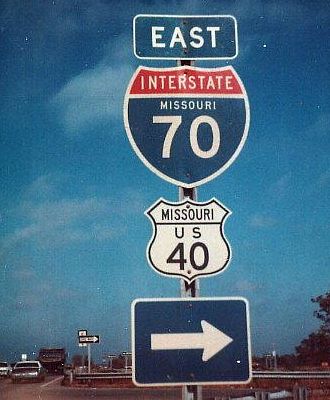 Photo courtesy of Ron Wilbanks
Cutout US and state highway shields survived in Missouri into the 1970s. This contribution from Ron Wilbanks shows the usual style. Here's more of the story: "I received this photo from a district traffic engineer for MSHD a while back. This was taken in 1977 at an Interchange for I-70/US-40. I was searching for the correct lettering for a regulation size 42 cm x 40.5 cm sign and this was all they had available to send me."
From the photo, I can't quite tell where this sign was located. The supplemental route sign far in the background is probably for a Route E or a Route F. Because this view looks north, possible Routes E would be in Columbia or in Jonesburg; while a possible Route F would be at High Hill.
Another style of cutout sign found near Interstates more closely resembled the cutout shields still used today in California, with or without the "US" legend toward the top of the sign. There was also a Missouri cutout that did not include the state name, just an outline with the highway number.