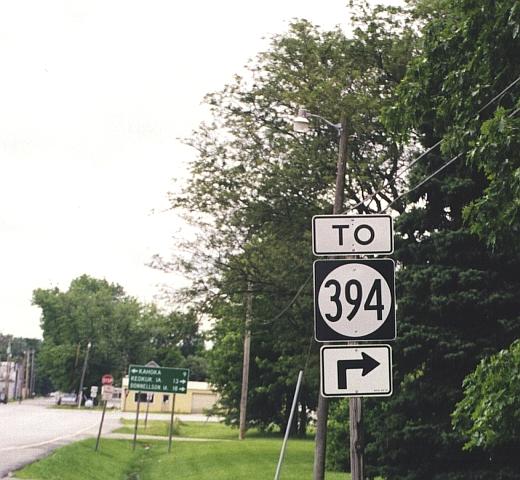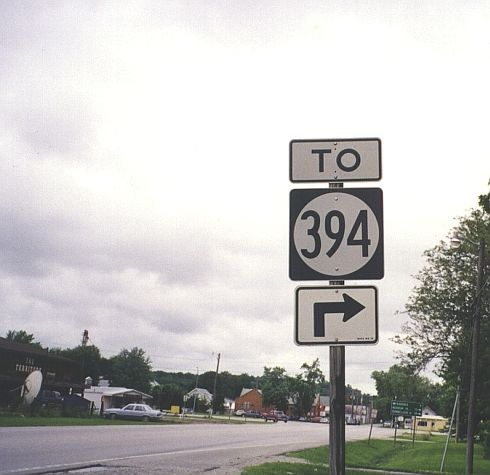 At Wayland, Missouri there was a trailblazer for northbound traffic on the US 136 spur. But instead of standard Missouri signage, there was an Iowa-style 'TO' sign, an Iowa-style sign for Iowa state highway 394, and a Missouri-style angle-right direction arrow. (Missouri uses a much smaller sign for angled direction arrows than does Iowa.)
These photos were taken in 1998, six years before the new Missouri 27 was established to replace the US 136 spur and connect with the new Iowa 27. The new routes were created as part of the Avenue of the Saints project to link Minneapolis-St. Paul and St. Louis with a four-lane expressway.
The view at the top focuses primarily on the sign, while the view at the bottom shows more of the Wayland intersection. Both views are of the same sign. The sign post itself was not perpendicular to the ground, so the rest of each photo appears tilted because the focal point of each photo is on the sign.
I looked at this sign; the backs of all but the 'TO' sign had MoDOT stickers on them and the 394 sign definitely appeared to be of recent Missouri manufacture (in 1998).
Another such trailblazer appeared at the US 61 intersection with the US 136 spur, this time with a diagonal-right arrow (again, Missouri-style arrow but Iowa-style number in circle).
This sign was intended to direct drivers to state supplemental route B, which lead to a privately operated toll bridge over the Des Moines River that connected to Iowa 394.
As part of the multi-state Avenue of the Saints project, Route B and the private bridge were replaced in 2004 by a new bridge and a new route, Missouri 27, which extended Iowa 27 into Missouri. Jeff Morrison has photos of the new Missouri 27 at the Iowa Highway Ends page (this link goes directly to the page on Iowa 27). In 2006, David Herman also submitted photos of Missouri 27, which can be found through the Signs and Sights Gallery Route Index.