Radios I Have Known
M-Audio Bass Traveler headphone amplifier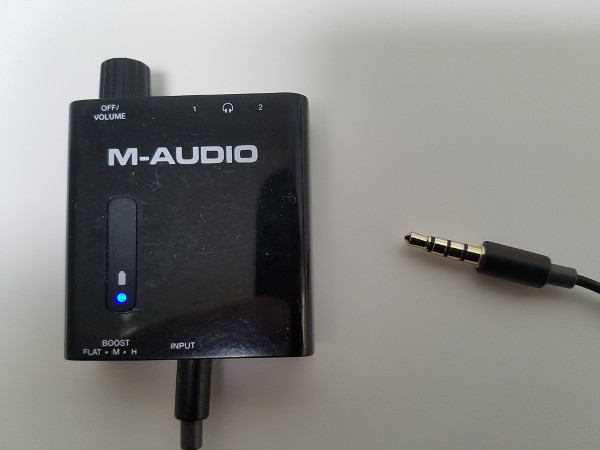 Headphone amplifiers can make listening to music from mobile devices much more pleasant. I started out using headphone amplifiers from FiiO, and then I found this device, from a company called M-Audio, which mostly specializes in products used in music production. This headphone amplifier, the Bass Traveler, is designed to compensate for the relatively weak amplifiers that mobile devices and media players tend to have. As a bonus, it has two headphone outputs.
In addition to providing additional amplification, the Bass Traveler can also boost the bass response of the signal being provided to a headphone. The amplifier can run without any boost, in the "flat" position, or in one of two positions to improve bass response. In the "medium" position, I measured an increase of 6 dB in response at 100 Hz, with smaller increases up to 1 kHz. In the "high" position, the boost was 8 dB at 100 Hz, also pivoting from a starting point at 1 kHz.
The device gets its power from a lithium-ion battery with approximately eight hours of battery life. In my experience, the battery holds its charge very well and rarely needs much recharging during times when it's not getting a lot of use. There is an LED to indicate that the device is on (blue), or when it's recharging (orange) or when the battery is low (I've never run into that situation!). Charging is through a micro-USB connector.
You will notice that the amplifier's detachable cable to the program source has a four-conductor 3.5mm plug rather than a standard three-conductor plug. The headphone output jacks also support four-conductor plugs. In the event that the headphones you're using have a microphone, this allows the microphone signal to be passed through the amplifier. I haven't actually tested this feature.
The only downside is an obvious one: the amplifier only works with corded microphones. It won't help Bluetooth or other wireless headphones.
In 2020, online prices for the M-Audio Bass Traveler ranged from $30 to $40. I liked the first one I bought so much that I bought a second one. If you're looking for getting beefier sound from your mobile devices or music players, this headphone amplifier is a good choice.