Radios I Have Known
Retekess TR103 AM/FM/SW radio and media player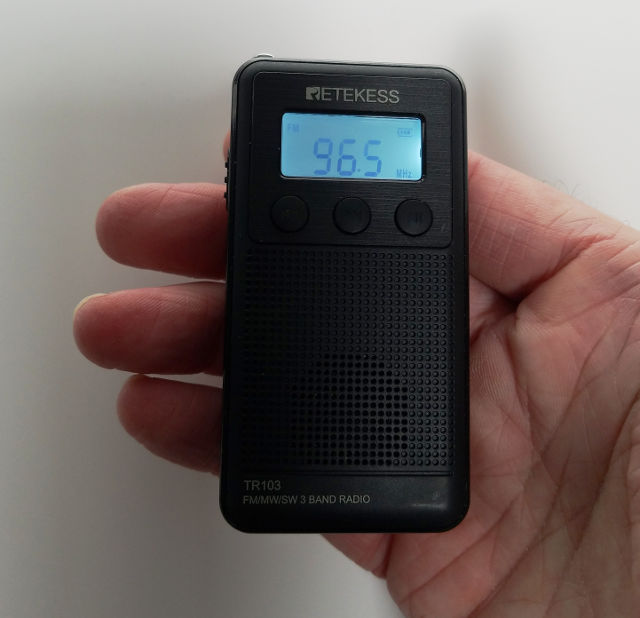 The Retekess TR103 AM/FM/shortwave radio and media player is tiny, as you can see from the picture. It literally fits in the palm of my hand.
With a speaker that's just about 3/4 inch in diameter, you might expect the sound to be tiny, too. It's not. Certainly, you're not going to get earth-shattering bass, or even much bass at all, but the speaker doesn't sound tinny at all. It's also surprisingly loud. The radio also supports stereo headphones through a jack on the top of the unit. There's also a short, 9 3/4" antenna for FM and shortwave reception.
I'm not usually concerned about shortwave reception, but I am very concerned about FM reception. Even with the far-too-short antenna, the radio's performance on FM is astonishing. There is an automatic scanning function that you can activate, which is something you should do because it's the easiest way to tune this radio.
The first scan that I ran picked up 55 signals. Two of them were false hits from HD sidebands on a couple of stations. That left 53 stations. I couldn't believe it, and so I ran another scan on a day that might have been less favorable for FM reception. That time, I got 50 stations, all of them for real. Some of them were marginal, but all were audible. That's a level of performance comparable to my best DSP (digital signal processing) based radios. While this radio doesn't claim to use DSP, it clearly does.
As with so many other DSP-based radios (see the XHDATA D-808 review for an example), the Retekess TR103 requires a relatively strong signal before it will decode FM stereo. There is no way to force mono reception on the TR103, so possibly that design decision makes sense for this radio.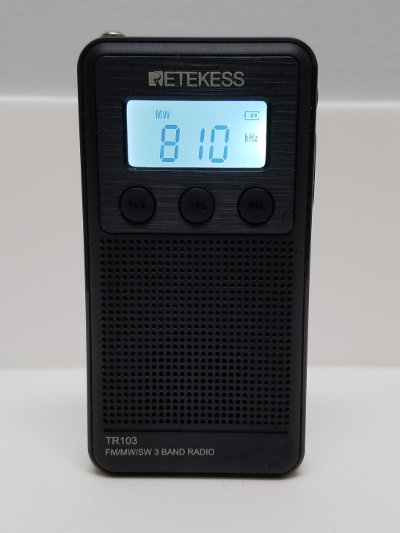 While FM performance, at least in mono, is spectacular, that's not the case for AM reception. The TR103 is competent, picking up all strong local signals. But this radio misses most fringe AM signals. Audio performance is also slightly unpleasant: frequency response is down 6 dB at 2 kHz and declines sharply to -40 dB at 3.6 kHz.
The scanning function is very effective, and makes this radio easy to tune, even without direct frequency entry or user-defined memories. In fact, the default tuning mode is for the radio to tune up or down between stations stored in memory. There are three buttons on front of the radio, which are more descriptive of its media-player functions than for tuning, but it's easy enough to figure out. The back (leftmost of the three buttons) and forward (middle) buttons tune up and down; the pause button (rightmost) switches between memory-based tuning and tuning between frequencies. If you hold down the pause button a bit longer, it will start scanning for stations. Holding down the back and forward buttons speeds up the pace of tuning across the band that you're listening to.
The radio returns to memory-based tuning about five seconds after pressing the pause button, unless you are actively pressing the left or right buttons to tune between channels.
When tuning between frequencies, AM tuning steps can be either 9 or 10 kHz, selected with a long press on a small button labeled M on the right side of the radio. FM tuning steps are 100 kHz.
The M button is used to switch among AM reception, FM reception, shortwave, and the media player. The TR103 can accommodate a Micro SD card with up to 64 GB capacity. It only supports the MP3 and WMA formats for media files. Looking for undocumented features, I also tried to play WAV format files on this unit. If it detects a WAV-format file, it appears to try to play it for about a second, but then gives up and moves on to the next file. You can go through media files sequentially with the left and right buttons, but there's no way to directly access a specific file.
It's disappointing that the unit can't play the uncompressed WAV format, which is kind of a lowest-common-denominator format, nor can it play common open-source compressed formats such as FLAC and Ogg Vorbis. Especially considering the ability of the TR103 to support Micro SD cards with substantial storage capacity, this would be a highly desirable feature.
A longer button on the right side of the radio increases or decreases volume. There's no tone control. The power switch is on the left side of the unit. The radio is powered by a built-in battery that the user can't replace. It's probably a lithium-ion battery, and can be recharged through a micro USB port on the right side of the unit, next to the slot for the Micro SD card. When the battery expires, unfortunately, the radio will expire, too.
What does all of this cost? I paid $28 before taxes at Amazon, ordering it from the manufacturer's retail agent, Retevis. The radio itself is probably made by the Henan Eshow Electronic Commerce Company (with the more obscure Chinese brands, you never quite know, but this company's name is given in the owner's manual). Henan Eshow also either made or marketed the Tivdio V-115 radio and media recorder, which was not nearly as good for radio reception as the TR103. In my Tivdio review, I asked the question, What do you expect for $25? The question with the Retekess TR103 isn't really different: What do you expect for $28? This time, the answer seems to be: you can expect excellent FM performance (in mono) and adequate AM and media-player performance with a minimum number of features in an extremely compact package. While the Tivdio V-115 was an interesting radio with some serious limitations, the Retekess TR103 seems to have hit the mark with a good design, considering its low cost, that balances essential features with surprising FM performance.