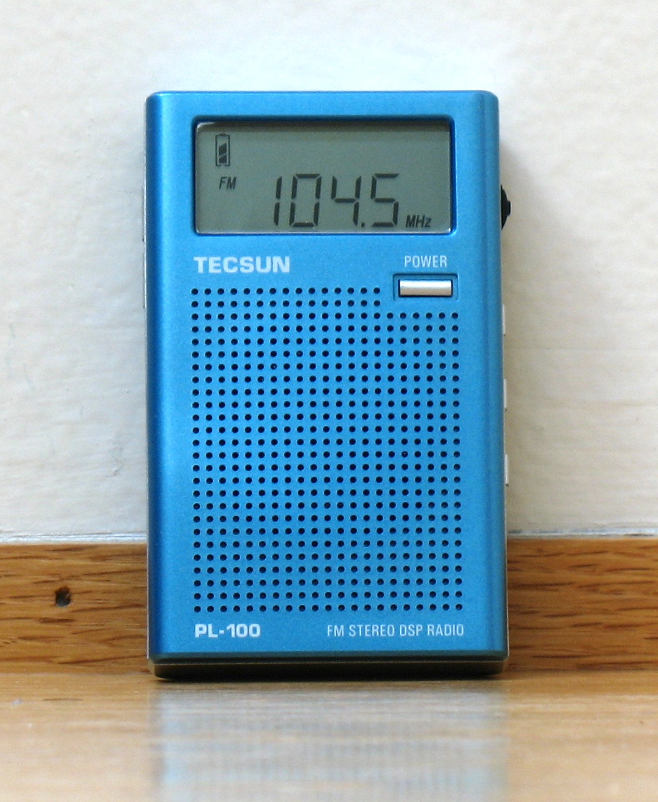 Here is the Tecsun PL-100, a small, FM-only receiver that says it's using the Silicon Labs "Si47xx" chip (probably the Si4734).
On the front, there is a frequency display and a battery strength indicator. When storing or recalling from memory, the number for the appropriate preset is in the upper right corner. The radio also has multiple memory positions--I can't tell exactly, because the box for the radio and its manual are all in Chinese, but I think it can store up to 100 stations. Even though the manual is in Chinese, all labels on the radio are in English, which is a good thing for me.
I bought it in 2011 from a different Hong Kong reseller on eBay from the one I have usually used, "anon-co". Nonetheless, the radio was shipped quickly, and I gave the reseller positive feedback on eBay, but there were a few ways in which this reseller falls short of the excellent service consistently provided by "anon-co" over the years. I'll get into that point farther on in this post.
I decided to revise this article in 2020 after I began to use the PL-100 again. Earlier on, I was critical of the radio, due to random changes in the listening volume, going up or down as much as 5 or 6 dB. I wasn't touching the radio or doing anything else with it when those changed happened.
However, the problem seems to have resolved itself! In more recent listening, the radio has been stable. I don't know why the issue seemed to clear up spontaneously, but I'm glad it has happened, because this is a nice little radio with surprisingly good performance for its size.
The radio, as measured in old-fashioned measurements, is about 3 1/2" high, 2 1/8" wide, and 5/18" deep. (The specs say 90mm by 54mm by 17mm.) There's a date code in the box that indicates it was made on December 17, 2010. On the side of the radio, there are buttons governing a large number of functions that have made it into this small receiver: memory set and delete, alarm and time setting, automatic scanning, plus a clever tuning wheel. The wheel doesn't turn. Instead, you flip it up to move up the dial one step (or one memory position); flip it down to go down one step or position. Tapping the middle of the wheel switches between tuning by frequency and tuning by memory position. When the radio is off, two of the buttons have extra duties, for time setting and setting the FM frequency range.
How does it do? In my Proton 100 review, I used the PL-100 as one of the radios to which I benchmarked the Proton's performance. As it turned out, the PL-100 received the same number of stations as the legendary Proton 100! The main difference between them was that the Proton was able to change into stereo reception at a lower level of signal strength than the PL-100. This seems quite typical of DSP-based radios generally. They also don't seem to have quite as wide stereo separation as older units.
As with other radios using the headphone cord as the FM antenna, performance is a bit compromised. That's probably the big design limitation in this unit. Headphone-cord antennas are rarely the correct length for FM reception and tend to move around a lot.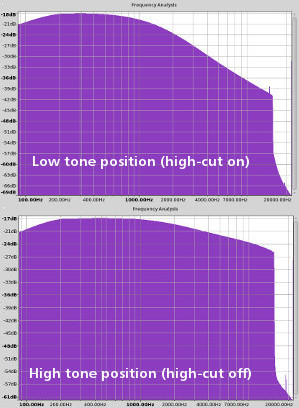 Pluses of this radio: it has a speaker, and you can switch to it manually. (Stereo is available only through headphones.) FM stereo reception can be turned off altogether, to reduce noise. Unusually for a Tecsun, it has a tone control. It's a two-position switch that cuts the treble in the "low" position. The effect is shown in the graphs at right -- the drop in high frequencies begins with a drop of 4 dB at 2 kHz, then down 8 dB at 4 kHz, 12 dB at 8 kHz, flattening out to be down 14 dB at 15 kHz, the highest frequency reproduced by this and most FM other radios.
Another nice feature: the Tecsun PL-100 was available in one of four colors, so if you didn't want the same old black or gray or silver, you could also have chosen red or blue.
The Tecsun PL-100 takes two AAA batteries. It has no recharging capability.
The minus: in 2020, the radio no longer seems to be available. It was not carried by "anon-co" back when it was available, and now, no eBay sellers carry it. It's still shown on Tecsun's Hong Kong site, but no American-based retailers have it.
As an aside, and as mentioned at the start of this article, I did not order this radio from the eBay reseller that I usually have used, anon-co. That reseller has been very good about testing their radios before sending them out. For an American buyer, anon-co will also set the correct AM and FM frequency ranges, though it's easy enough to set them yourself.
The reseller that I used for the PL-100 appeared to have sent the radio without testing it first. It came with original shrinkwrap intact. Normally, I'd say that was a good thing, but this was one of those times where things needed to work differently. There had been reported quality control problems from the various Chinese makers, including Tecsun. It would be a big pain to send the radio back to Hong Kong for a return and the postage might cost more than the radio.
In this case, everything seems to have worked out, since the problem with the radio's volume control appeared to resolve on its own.
Around 2011, Tecsun came out with an AM/FM radio with a very similar appearance, the DR-777. I didn't get one at the time because of my dissatisfaction with the PL-100 when I first got it. That's unfortunate, because the DR-777 was available only for a short time and is now scarce. A reviewer on YouTube named "toddebert" was able to get a pre-owned DR-777 in 2018 and has posted an extensive review. From that review, one can see that the main differences between the PL-100 and the DR-777 are:
The DR-777 has AM coverage as well as FM while the PL-100 is FM-only.
The DR-777 uses a rechargeable lithium-ion battery while the PL-100 uses standard AAA batteries.
Because of the battery, the DR-777 has a miniature USB port for charging.
The DR-777 has a bass-boost switch rather than a switch to cut high-frequency response (it's possible this is just relabeling and not an actual difference in functionality).
The use of a lithium-ion battery would probably have been a showstopper for me. Even though the battery used looks like a BL-5C, which has been a very stable battery, the bad luck I've had with a (different) lithium-ion battery in the XHDATA D-808 has given me a sour opinion about radios that use those batteries. If a rechargeable battery is called for, metal-hydride batteries are far more stable and, for travel, can be transported in carry-on luggage.
Meantime, I'm happier with the Tecsun PL-100 than I used to be, and wish it was still available. If you're looking for an unobtrusive travel companion, and aren't concerned with bringing in every possible FM signal that might be available at your travel destination, the PL-100 could be a good choice.