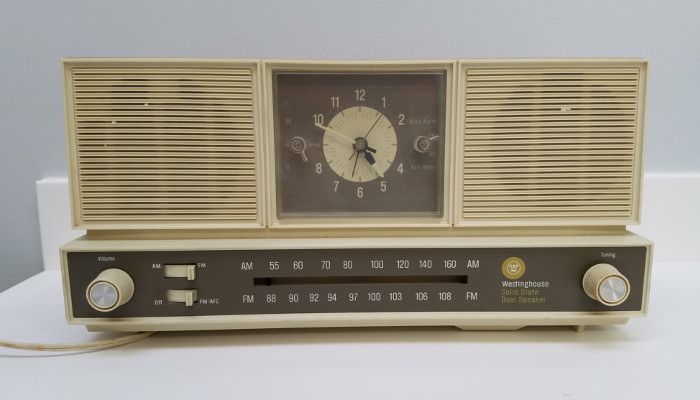 When I first wrote this post, way back in the days when I was using Posterous as a blogging platform, I speculated about buying this radio upon seeing one offered for sale on eBay. I was tempted to go for it because it was the same model as my first radio that had FM in it. I got mine in 1968, bought by my parents through a Texaco credit card offer.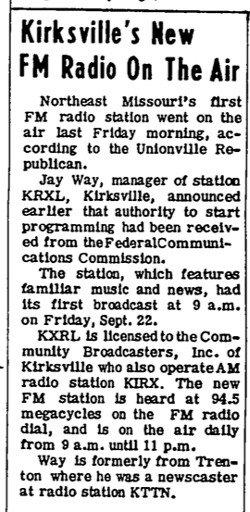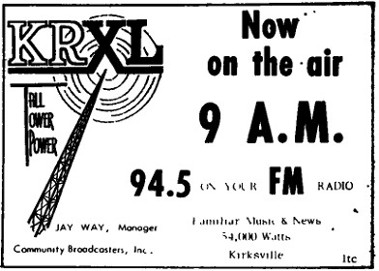 I was just ahead of my teenage years at that point. Why was I interested in FM? The newspaper clips to the right (fair use excerpts from publicly available local-library archives) tell some of the story. In 1967, the first FM station came on the air that could reliably cover the area along the Iowa-Missouri border, where I lived at the time. I first noticed the station because the tuner on our Zenith TV set could pick it up on Channel 6, unoccupied in our area.
The station was KRXL, based in Kirksville, home to Northeast Missouri State University (now Truman State University), as well as the home of osteopathic medicine and a regional trading center. It was one of a wave of FM stations coming on the air in northern Missouri in the late 1960s. Broadcasters in Moberly, Mexico, and Marshall complemented their successful AM operations with FM stations during those years. A fully independent broadcaster in Hannibal also put an FM station on the air in that era. Unlike earlier years, FM stations started to have a fighting chance of making money and staying on the air. Oddly, there was much less activity across the border in Iowa, though Des Moines stations could be received in our area, but not consistently.
The KRXL ad from the weekly Unionville Republican on September 27, 1967 promoted "familiar music", mainly of the easy-listening variety, and a broad coverage area with 54,000 watts of power. The daily Trenton Republican-Times picked up the story the next day and filled in some of the details, including a broadcast day that started at 9 am. In those days, prime time for FM radio stations was often considered to be during the evening. As I recall, the station was also an affiliate of ABC radio, broadcasting news from ABC's FM network.
KRXL is still very much around, having never changed its call letters, now at full power (100,000 watts) and being a successful classic rocker for many years.
So...KRXL...Texaco credit-card offer (why was I looking at my parents' credit-card bills? I have no idea)...request to parents fulfilled. I think this radio turned out to be a Christmas present.
Fast forward a few decades. I passed on that first Westinghouse clock radio that I saw on eBay. Another was offered for sale in January 2017, and, that time, I went for it. When I got it, there was a bad capacitor associated with the power supply, causing a loud hum. A friend of mine fixed that, giving me a working model.
The radio's power source is strictly from AC house current (mains). It's a kind of design no longer seen. There's no headphone jack or any other kind of audio output. There are two speakers, but it's not stereo. There was even a version of this radio made without a clock, with an additional grille in the middle similar to the speaker grills. Since the on-off switch for the clock radio is integrated into the clock, I presume the on-off switch for the version without a clock was incorporated into the volume control.
The controls feel lightweight and even flimsy. On some units, they squeak, though that doesn't appear to be the case with the one that I currently have. The construction of this model was surprisingly fragile; the dial cord on my original clock radio gave out after four or five years of use.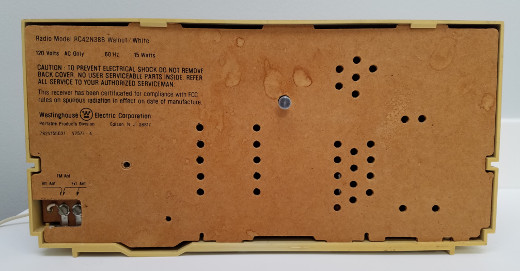 While the radio's case is made out of plastic, in a design that feels surprisingly modern, the case doesn't cover the entire radio. The back plane (right) is made out of wooden particle board. This was a type of construction common in tube-type table radios of the 1950s and 1960s made in the United States. While the RC42N38B was made in the United States, the circuitry is all solid-state: no tubes. An external FM antenna can be used, with a lead provided that allows use of the power cord as an FM antenna.
As far as performance is concerned, most modern radios can run rings around this model. While there's no front-end overload, that's probably because the radio has below-average sensitivity. Nor is it selective. This is true on both AM and FM. In short, it's fine for strong local signals and possibly for areas with few stations. But it's really not a radio that does well with the modern broadcasting environment of a crowded dial jammed with stations.
In conclusion, the only reason I sought out this radio was my personal history with this model. Certainly the radio has an attractive appearance which feels quite contemporary, more so than it would have at the turn of the current century. But the performance isn't contemporary, and is reflective of an earlier time.