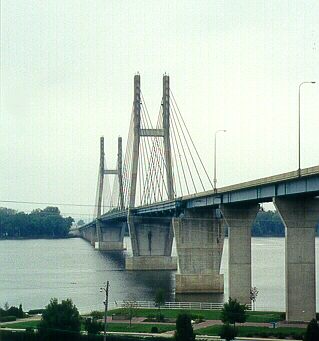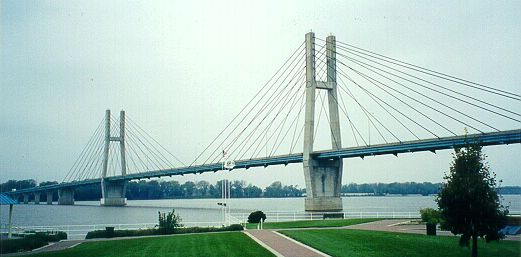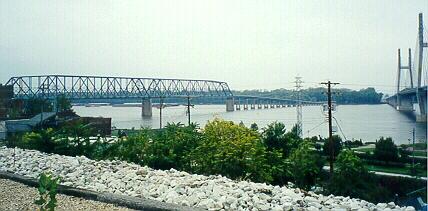 A pair of bridges carries traffic across the Mississippi River between Quincy, Illinois and West Quincy, Missouri. The photos above show the newer bridge, the Quincy Bayview Bridge, completed in 1986. The photo to the right shows the Quincy Memorial Bridge, built in 1930.
During the severe flooding of 1993, the Bayview Bridge was, at one point, the only link across the river for 200 miles. The approaches to all the other bridges had flooded out. Then a levee at West Quincy was breached, flooding the road leading from the bridge. A local resident was later convicted on charges relating to the levee break.
The Quincy Memorial Bridge was closed in 2002 for repair and partial rebuilding. The Bayview Bridge, which normally carries only westbound traffic, carried traffic in both directions while the Memorial Bridge work was done.
Repair work was also scheduled on the Bayview Bridge in 2003. According to the Quincy Herald-Whig, the black wrapping on the cable sheaths causes the cables to expand more than they should. The repair work would replace the sheaths with a lighter-color wrapping so the cables won't expand so much.
These photos were taken from the Quincy side of the river in 1998.
Also check out another cable-stayed Mississippi River bridge at Burlington, Iowa.