Radios I Have Known
Prunus J-125 AM/FM DSP radio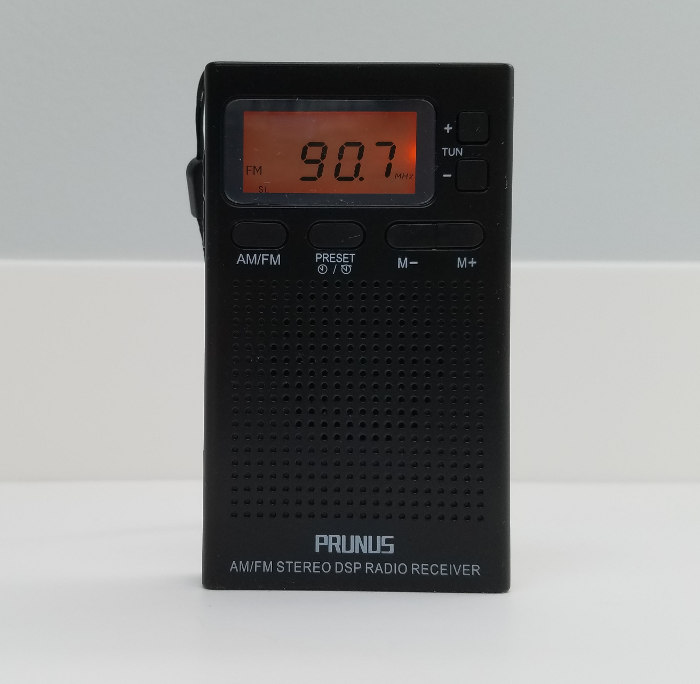 A brand name that began to appear from the Chinese radio-industrial complex in 2020 was Prunus. With a name like Prunus, you might expect their radios to come in almond, plum, or peach colors. (Look it up in Wikipedia if you don't get the reference.) But the J-125 is yet another black slab of plastic, about four inches tall, 2 1/4 inches wide, and 1/2 inch thick. The speaker is 1 1/2 inches in diameter. There's also a stereo headphone jack, and FM stereo reception is supported. Sound quality from the speaker is about what you would expect, rather thin and best suited to talk or other spoken-word programming. Headphone audio is fine.
Controls are basic, but well-designed. You can tune between stations with skew buttons, labeled + and -. Similar buttons on the left side of the radio control volume. A lock button is on the right side of the radio. It also serves to turn FM stereo reception on and off. The AM/FM button switches between bands and the M- and M+ buttons tune up and down the dial based on memory positions.
The PRESET button stores stations in memory. Holding the PRESET button starts an automatic search, storing stations found into memory. However, since there are only 20 memory positions for each band (oddly, numbered from zero to 19; a computer programmer must have made this design decision!), the automatic search function is of limited use in areas with a lot of stations on the dial.
The radio uses two standard AAA batteries. It also has an old-fashioned coaxial-style jack for a 3-volt power supply. This allows rechargeable batteries to be used and recharged. The owner's manual, however, seems to indicate that the radio can't be used while it's being charged. Earbuds and a lanyard are included with the radio, but an external power supply is not included.
This is another radio that uses digital signal processing (DSP). Even so, it performs somewhat differently than many other DSP-based radios. As with the Tivdio V-115, one has to evaluate the radio with its price in mind.
The digital frequency display and clock have large, easily readable numerals. The amber backlight stays on for three seconds after a button is pressed. After eight seconds, the display switches back from the frequency display to the clock display. Alarm functions are available. The one thing that isn't readable on the display is the stereo indicator in the lower left corner of the display. It's not that useful: it merely indicates that FM reception in stereo is possible, not that the station you're actually listening to is in stereo.
The price of the radio seemed to wobble around in 2020. The price range was between $10 and $15. One day on Amazon, I saw it for $15; the next day it was going for $14 along with a "coupon". That's what I paid for mine.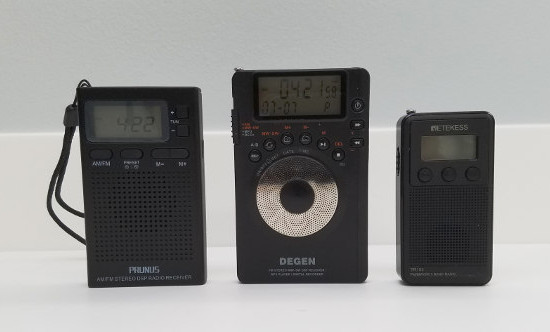 In order to get a picture of the Prunus's performance, I made a head-to-head comparison with other DSP-based pocket radios, shown at left: the Degen DE1123 (center in photo) and the Retekess TR103 (right in photo). As references, I included the Tecsun PL-310ET, which is a solid AM performer and an excellent FM performer, and, for FM only, the Proton 100, a classic FM headphone radio from the early 1980s, representing the best in FM performance in a non-DSP design.
I should have included the CC Pocket in this comparison as well, but forgot. Ultimately, as you'll be able to determine, that really didn't matter so much anyway.
Station counts tell some of the story, but not the whole story.
On AM:
Tecsun PL-310ET (reference): 49 receivable, 47 listenable
Prunus J-125: 39 receivable, 37 listenable
Retekess TR103: 30 receivable, 26 listenable
Degen DE1123: 40 receivable, 29 listenable
While this appears to demonstrate respectable AM performance from the Prunus, there's more to the story. Several stations were rendered unlistenable or simply not receivable at all due to some form of internally generated interference. While the radio could lock on the signal, hardly any audio could be heard from the station. This affected both local and distant signals, including KTHK (1140, Sacramento), KZSF (1370, San Jose, a distant signal at my East Bay location), and KEST (1450, San Francisco, a local signal for me). I would consider this a significant defect; consequently, I wouldn't recommend this radio for AM listening.
For FM stations, the fact that the Prunus uses the carrying strap as the antenna is probably a limiting factor in its performance. Raw station counts don't tell the entire story, and also don't account for differences in thresholds for stereo reception. (See my reviews of the XHDATA D-808, the Digitech AR-1780, and the Sangean DT-800 for more on stereo reception.) Further complicating matters is that a few stations were broadcasting only in mono (e.g., KALW, KGMZ, KNBR-FM), which means they won't matter for the count of stereo stations even if they have strong signals. In any event, here's how my comparisons came out:
Tecsun PL-310ET (reference): 52 receivable, 47 listenable, 32 in stereo.
Prunus J-125: 45 receivable, 41 listenable, 34 in stereo.
Retekess TR103: 51 receivable, 48 listenable, 27 in stereo.
Degen DE1123: 51 receivable, 45 listenable, 37 in stereo.
Proton 100 (non-DSP): 46 receivable, 45 listenable, 39 in stereo.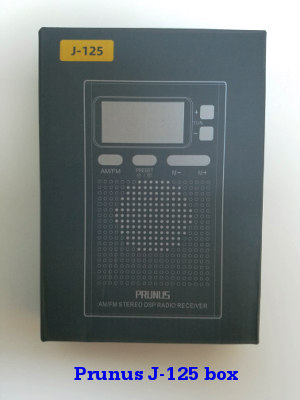 These numbers indicate that the Prunus is a slightly weaker FM performer than the other DSP-based radios. On the other hand, it gets more stations in stereo than a couple of the otherwise stronger performers. From what I can tell, the Prunus utilizes a wider bandwidth for reception compared to most DSP radios. Wider bandwidth on FM usually means better-quality stereo reception and less distortion, at the cost of selectivity.
Another indication of wider FM bandwidth on the Prunus is the way it deals with HD radio sidebands, which appear as annoying buzzing sounds above and below an FM station that's broadcasting in HD. On most selective radios, the sidebands show up 200 kHz either side of the main FM signal. On the Prunus, they show up 300 kHz either side of the main FM signal. This is an odd result, but I believe one that indicates wideband reception of the main FM signal, which appears to "push out" the HD sidebands a little farther away from the FM baseband once the signal is processed by the radio. Whether this is a desirable result is something that could be questioned, but the hybrid HD signal already is something of a hack, with its effect on receivers in real-world conditions likely to be unpredictable at times.
What I can say is that, when making trade-offs between receiving very weak signals and sound quality, most DSP-based radios tend to favor reception of those weak signals. The Prunus model favors sound quality instead. This is, in fact, what one would have expected from a quality FM radio in the 1970s and 1980s. The Proton 100 is an excellent example, as indicated in the station counts above: it got more stations in stereo than any of the DSP-based radios.
AM frequency response is more run-of-the-mill: down 6 dB at 3.2 kHz, with a fairly gradual roll-off beyond that point.
The Prunus is a basic and cheap AM/FM radio whose FM performance harkens back to earlier types of FM receivers, sometimes to good effect, while its AM performance is somewhat unpredictable. If you listen only to FM, you should have few problems, but AM listeners may find that they can't hear a station they want to hear. At a price of $15 or so, the impact of taking that risk is very limited, but it is something Prunus's parent company, Jin Ming Technology Company, Ltd., needs to work on. That problem with AM reception detracts from what otherwise could be a reasonable radio when taking its rock-bottom price into consideration.