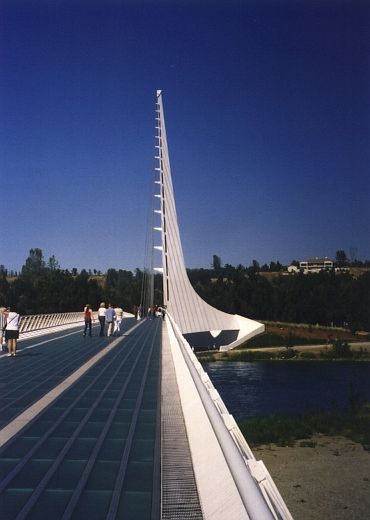 Opening on July 4, 2004, the Sundial Bridge is a footbridge spanning the Sacramento River at Redding. The cable-stayed footbridge connects the two halves of the Turtle Bay Exploration Park on the north side of Redding. The tall pylon is also a sundial!
The bridge was designed by Spanish architect Santiago Calatrava. With its theme of hyperbolic and parabolic shapes, as well as its use of the trencadís broken-tile technique to cover the base of the bridge's supporting structures, it must be the most Catalan thing in North America.
The walkway of the bridge is 200 tons of granite and transculent glass. It is supported by more than 4,300 feet of cable stretching to an inclined, 217-foot pylon constructed of 580 tons of steel. The whole structure is stabilized by a steel truss, and rests on a foundation of steel and concrete.
The money for the bridge came from the local McConnell Foundation, plus state and city grants.
It's difficult, if not impossible, to see from Interstate 5, but a quick trip on California 44 to Turtle Bay is well worth it.
Bridge Photos
These photos were taken in September 2004.
Related Links


Mark Roberts
Oakland, California
E-mail: Please see the
Contact Information
page.