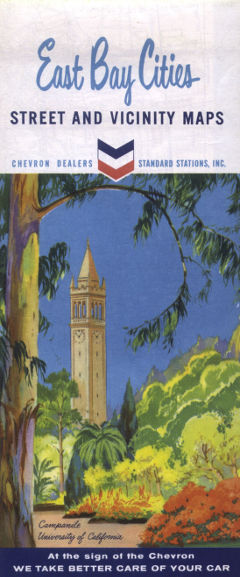 Above: The cover of the 1964 East Bay Cities (Oakland, Berkeley, and so on) street map, published by the H.M. Goushá Company for Standard Oil of California, now Chevron. Chevron maps of the early 1960s featured color drawings of scenes from the area that the map depicted.
What's at this site?
This site features photos and other articles about interests of mine that I have shared over the years. See the Features listing on the right side of this page for links to different parts of the site.
Radios: In 2014, I gathered together articles that I had written about my collection of radios on various blogging sites, and put them here. A much earlier version of this site in the mid and late 1990s attempted to keep track of the comings and going of radio-station formats in Missouri, Kansas, and Illinois. When I moved to California, I discontinued that part of the site.
Roads: I was once a frequent participant on the Usenet newsgroup misc.transport.roads where, in the late 1990s, roadgeeks or roadfans would publish sites for the states where they lived. Remember that there wasn't Facebook or even blogging back then. Even though I didn't live in Missouri in 1997, I spent a lot of time there, motivating me to publish a site about Missouri roads. When I moved to California in 1999, I added photos of California road signs and sites. Subsequently, I added similar sites featuring New Mexico and featuring US highways in other states. Road maps are also a big interest of mine, especially historic maps of Missouri and California.
More: Aside from the list below, I have an interest in telephones and phone directories from the 1950s through the 1980s. I am also a road cyclist, but I don't have any related photos here. I'm really not a very fast or strong cyclist, but I can climb hills!
Where did the name come from?
The Cosmos-Monitor was the name of one of two daily newspapers in St. Charles, Missouri. It ceased publication in 1959. The other daily newspaper in St. Charles, the Banner-News, stopped publishing on May 31, 1978. Even though St. Charles and St. Charles County were rapidly-growing suburbs of St. Louis, evidently the Banner-News wasn't able to compete with the big city newspapers from St. Louis. After all, St. Louis County was just across the Missouri River.
Other photos at this site
Aside from the galleries and albums listed to the right under Features, here are some other selected photos:
Mark Roberts
Oakland, California
E-mail: Please see the
Contact Information
page.
Copyright notice: All photographs at this web site were taken by me, copyright 1998-2022, Mark Roberts, all rights reserved, unless the name of the contributor is otherwise noted.