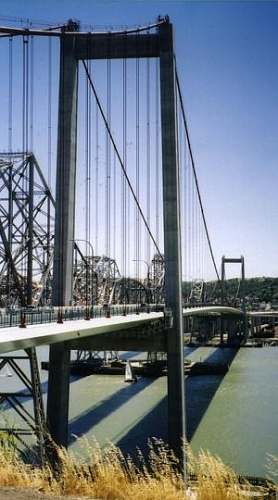 The Al Zampa Memorial Bridge, the first suspension bridge to be completed in the United States since 1973, opened across the Carquinez Strait in 2003. The accompanying pedestrian and bike path opened in May 2004.
The new bridge replaces the first bridge over the Carquinez Strait, which opened in 1927. The second bridge over the strait, opened in 1958 as part of the construction of Interstate 80, has been given a seismic retrofit and remains in service.
It was also one of the sites for the roadfan (or "roadgeek") meeting in Northern California on June 26, 2004. Robert Cruickshank organized the meeting, with four other participants in the Usenet newsgroup misc.transport.road making an appearance.
Bridge Photos
Related Links


Mark Roberts
Oakland, California
E-mail: Please see the
Contact Information
page.