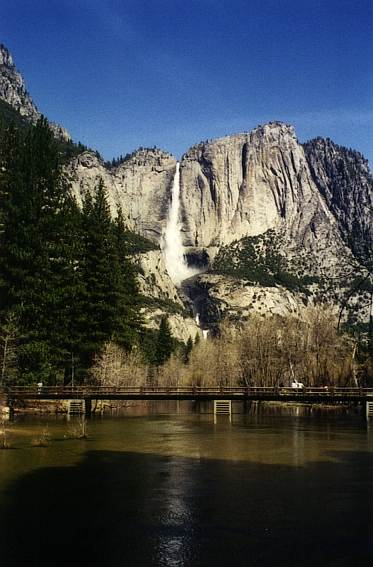 Yosemite
This part of my site features photos from Yosemite Valley and a couple from Mariposa Grove, taken during a trip in April 2002 for my (mumble)th birthday. The weather was just about perfect. The park wasn't crowded, so it was easy to get around. Unfortunately, the park's summertime popularity will probably lead to the eventual banning of private vehicles from much of the park. The park facilities appeared in need of updating and overhauling.
Buildings and roads still appear insignificant compared to the natural features of the park, many of which are still remote enough to avoid too much damage from man's heavy hand.
On the left is Yosemite Falls, overlooking the Merced River in the valley. More photos....
Signs
I didn't take many photos of signs (see the California Signs and Sights portion of my site for that slightly oddball part of my world). Yet a few were nonetheless notable.


Mark Roberts
Oakland, California
E-mail: Please see the
Contact Information
page.