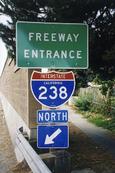 A freeway entrance for everyone's favorite freeway with noncompliant numbering, Interstate 238, in San Lorenzo.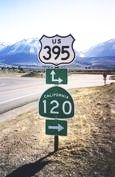 US 395 and California 120 south of Lee Vining in the eastern Sierras.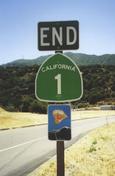 One of several endpoints for California 1, this one is in Santa Barbara County at US 101. The blue sign below the California 1 shield indicates a scenic route, showing the state flower, the California poppy.
Welcome to the California Road Signs and Sights Gallery! As a companion to the comprehensive Missouri Signs and Sights Gallery, this collection includes photos that I have taken since I moved to California in 1999. Please send comments to the e-mail address listed on the site's Contact Information page.
Search the California Road Signs and Sights Gallery...
Or look for the categories of signs and sights shown:
Or look up the types of highways (Interstates, US highways, state highways, or any combination):


Mark Roberts
Oakland, California
E-mail: Please see the
Contact Information
page.