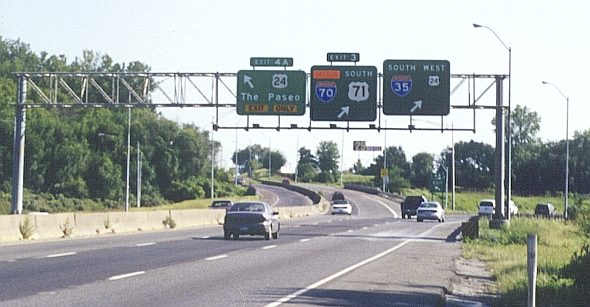 This set of exits about a mile south of the Paseo Bridge (since replaced by the Christopher Bond Bridge) in Kansas City also marked the farthest extent of the Kansas City downtown freeway loop. At the time, the southern endpoint of Interstate 29 was at the south end of the Paseo Bridge. That endpoint has since moved southward beyond this location.
When this photo was taken in August 1998, there was work on the Intercity Viaduct between Kansas City, Kansas and Kansas City, Missouri, requiring that traffic that would usually take Interstate 70 along the north side of the freeway loop instead would take the east and south side of the loop to hook up with Interstate 670. Hence the detour sign. The route for Interstate 35 was indicated along the north side of the loop, as was US 24. Note the rather tiny shield for US 24 going west. Going east, US 24 really does not run along The Paseo. Instead, it follows Independence Avenue all the way over to Independence.
These signs have since been replaced, as shown by a 2006 photo of this interchange by David Backlin.