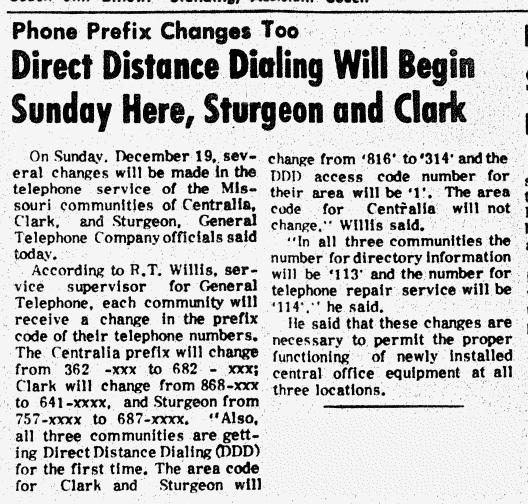 In the last few years, some areas have changed area codes one or more times. Back in 1971, though, area-code changes were rare. Yet it happened in a couple of small communities in central Missouri north of Columbia. This article from the Centralia Fireside Guard of December 16, 1971 described the switch on the following Sunday for residents of Sturgeon and Clark. Centralia was already in area code 314, but had to change its phone prefix for some reason. Out went the magnificent sounding "EMpire 2" that Centralia had used since 1954 and in came the anonymous "682". (Despite what the article above may suggest, Centralia and Sturgeon had seven-digit phone numbers since 1954.)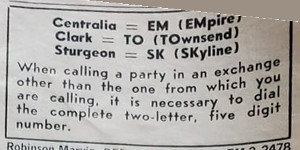 The excerpt on the right is from the 1961 Centralia phone directory (photograph taken by Sandy Sanders), showing the exchange names as they were established in 1954. As you can see by comparing this list to the newspaper clipping at the start of this post, Sturgeon also lost "SKyline 7" (757), and Clark lost "TOwnsend 8" (868). All three exchanges were in the same extended calling area. The three towns definitely had seven-digit dialing across an area-code boundary. Given the equipment in use then, they may even have had five-digit dialing across that boundary, even though the exchange list at the right indicates that full seven-digit dialing to other exchanges should have been required.
I don't know why Sturgeon was originally placed in area code 816. County lines couldn't have been a factor, because Sturgeon is in Boone County, as is Centralia. Clark is just across the county line from Sturgeon in Randolph County.
Based on a couple of thank-you letters from Southwestern Bell operators in the Guard the next week, the reason for the change may have originated in the way long distance calls were routed. Before the change, all long distance calls for Sturgeon and Clark were routed through Moberly (in area code 816) while long-distance calls for Centralia (in area code 314) were routed through Columbia. This was the case even though Centralia and the other two towns were served by General Telephone. After the switch, all such calls were routed through Columbia, the regional headquarters for General Telephone at the time.
However, a billing slip from 1966 indicates that Centralia, Clark, and Sturgeon calls were handled through the General Telephone operators at Columbia. Is it possible that both methods were used?
The three exchanges were switched over to area code 573 in 1996. As far as the original area code, 314, is concerned, the 362 prefix landed in St. Louis. The 362 prefix for area code 573 is allocated to a variety of uses in the small town of Fisk, east of Poplar Bluff in southeastern Missouri.