One important result of the Centennial Road system approved by the Missouri General Assembly in 1921 was the construction of highway bridges across the Missouri River. Eight decades later, many of those bridges have been replaced. One such bridge carried US 40 across the river at Boonville.

The bridge was completed in 1924 and dedicated on July 4. The bridge construction program was featured in the State Manual (the official state almanac) for 1925-26, published by Secretary of State Charles U. Becker. One photograph in the State Manual (left) shows "the New State Highway Bridge" at Boonville.
The Boonville bridge was notorious for a metal floor that made you feel as though you were about to lose control of your car. Driving it the first time or two was indeed a scary experience. Local lore claimed that the effect was caused by an upside-down installation of the deck floor. This rumor was always denied by the state highway department.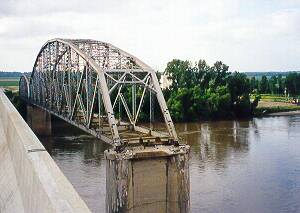 This experience is one that will be denied (or spared) future generations. In 1998, a new bridge was completed over the Missouri River. The old bridge was demolished in stages. The state had offered to donate the bridge to anyone who wanted it, but the dismantling and transport costs proved daunting.
Two spans of the original six spans, one 280 feet wide and the other 420 feet wide, were still standing in July 1998 when this photo was taken from the new, higher bridge. The two remaining spans (left) were toward the north bank of the river. They were dismantled later in 1998.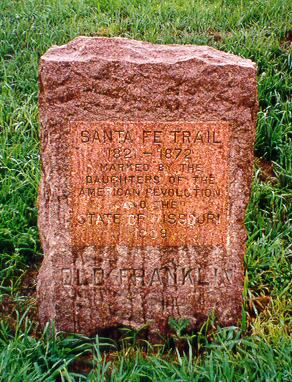 One interesting feature of the old north approach that's still present is this marker (right) from 1909 indicating the townsite of (Old) Franklin, founded in 1816 and at one time a major town in rural Missouri. Recurrent river flooding in the 1820s forced the removal of the town to New Franklin, a couple of miles north, in 1828.
It's a bit difficult to read the lettering on this red granite marker, placed at the location in 1909 by the Daughters of the American Revolution. "OLD FRANKLIN" is shown at the bottom while the inset marks the location of the Santa Fe Trail.
The new roadbed is 100 feet or so to the west of the old roadbed. Most of the old roadbed was taken up, though a small segment remains to service nearby farms.
Color photos copyright 1998, Mark Roberts, all rights reserved.


Mark Roberts
Oakland, California
E-mail: Please see the
Contact Information
page.