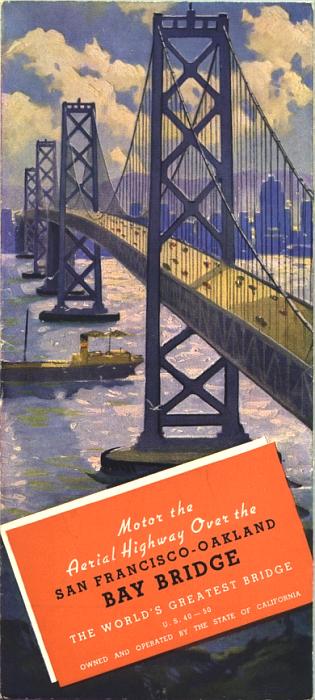 The cover of this brochure exhorts you to "Motor the Aerial Highway Over the San Francisco-Oakland Bay Bridge". Construction on the bridge began in 1933. The bridge opened to auto traffic at "12:30 pm, November 12, 1936." This pamphlet promoting the bridge was produced before the 1939 Golden Gate International Exhibition on what's now called Treasure Island.
The Golden Gate Bridge was built around the same time, leading Standard Oil of California to publish a pamphlet-sized guide in 1939, titled How to Use the New Bridges (click on the link to see that guide).
Some facts about the bridge:
At the time, it was "the longest bridge in the world (4 1/2 miles over navigable water)".
The double-decker tunnel through Yerba Buena Island was "the largest bore vehicular tunnel in existence" (I believe this is still the case).
152,000 tons of structural steel; 18,500 tons of cable wire; and a million cubic yards of concrete were used to build the two spans of the bridge.
At the east end of the bridge, the "Distribution Structure", now familiarly called "The Maze", "has no left hand turns or right angle crossings".
US highways 40 and 50 were routed over the bridge to San Francisco. In the East Bay, US 40 went north through Berkeley while US 50 went south and east through Oakland.
Bay Bridge Brochure
I have scanned the more notable maps and photos. I haven't scanned most of the text in the brochure.
Before the Bridge
By way of contrast, I have scanned a few fair use excerpts from a 1932 street and road map of San Francisco and the Bay Area. They shows a time before the Bay Bridge and the Golden Gate Bridge were built. Also included: A 1927 map showing three proposed routes for the Bay Bridge. As it turned out, none of those routes was adopted.


Mark Roberts
Oakland, California
E-mail: Please see the
Contact Information
page.