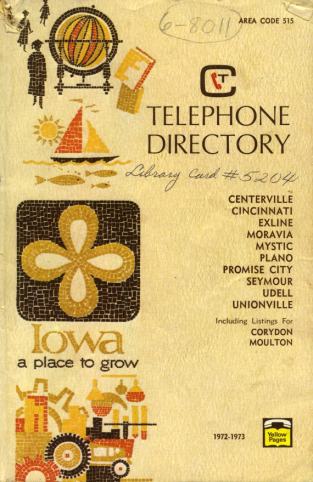 Telephones
The cover of the 1972 telephone directory for the southern Iowa city of Centerville. Note the number of exchanges included. Also note the time and temperature number written on the cover by my mother, noting the need to dial only the last five digits of the local phone number. (Don't try to dial it now...it has changed!)
In Moulton, served by the Farmers Mutual Telephone Cooperative, you only had to dial the last four digits.
Other Pages
These scans are rather large (around 65-85K). I have tried to compress them to reduce their size while still maintaining legibility.
Other Phone Stuff


Mark Roberts
Oakland, California
E-mail: Please see the
Contact Information
page.