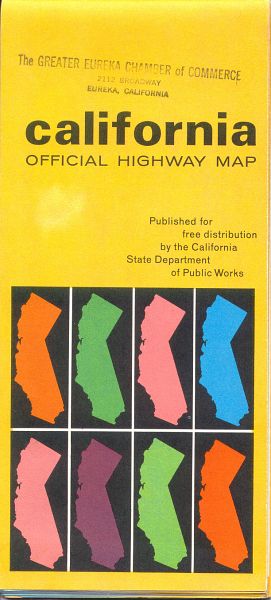 California isn't publishing a detailed official highway map any more, and earlier maps appear to be fairly rare. The 1966 official California highway map (front cover, left; rear cover, below) was published at what was probably the peak of California's road-building program, with numerous freeways either planned or under construction.
The map, produced by the now-defunct map publisher H. M. Goushá, covers the entire state on one sheet. On the back are inset maps of the San Francisco Bay Area and of Los Angeles and vicinity, showing more details of the routes in those metropolitan areas.
Unlike commercially produced road maps, this one doesn't show most of the routes in adjoining states. A few routes that continue into other states are depicted. One route is shown to a small Oregon town, and major direct routes into the Nevada cities of Reno, Carson City, and Las Vegas are shown. Otherwise, though, routes are not depicted outside the borders of California.
From this page, you can access fair use excerpts of the map. Due to its age, the folds are noticeable, but the map itself is actually in very good condition. As you can tell from the stamp on the front cover, the maps were often given out by local chambers of commerce.
By the way, a PDF of the current official state map can be found at the California Tourism web site, but it is less detailed than a map such as the 1966 highway map.
Technical Info: These are huge scans, running up to 700-800 KB in most cases. This was necessary in order to show the detail that this map provides. The areas shown by the scans overlap.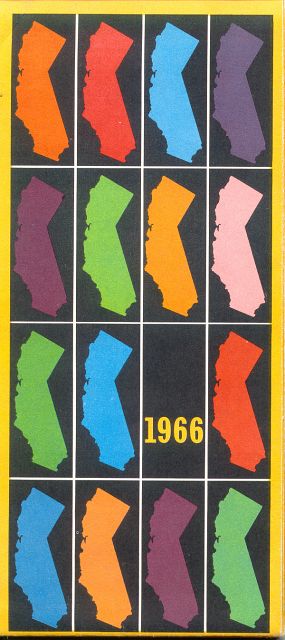 The back cover of the map continues the modernistic theme of the front cover, with the repeated use of the state outline in different colors.


Mark Roberts
Oakland, California
E-mail: Please see the
Contact Information
page.