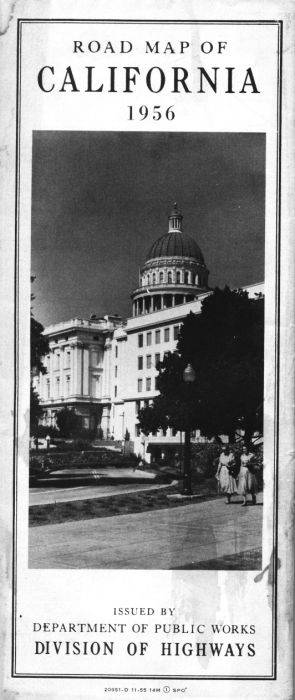 California isn't publishing a detailed official highway map any more, and earlier maps appear to be fairly rare. From the 1930s until the early 1960s, the state published annual maps that appeared on the outside to be quite plain. The 1956 official California highway map (cover, left) is an example of one of those maps. The cover is a photograph of the state capital in Sacramento.
Unlike later maps produced by commercial publishers, this map was hand-drawn. The front of the map covered the entire state. It was in color. There were freeways on the map, but they were shown by a thicker casing around the color coding of the route as indicated by the map's legend. In practice, that thicker casing was rather hard to differentiate from the casing shown for other routes.
The front of the map also included insets for the Los Angeles region and the San Francisco Bay Area. Those insets were also in color.
The rear of the map showed detailed maps for several major California cities. Also on that side of the sheet was a map of U.S. highways in the western states.
Unlike commercially produced road maps, this one doesn't show most of the routes in adjoining states. A few routes that continue into other states are depicted.
From this page, you can access fair use excerpts of the map. Due to its age, the folds are noticeable, but the most of the map itself is in good condition except for a few stains. The scans of the map have been color-corrected to compensate for yellowing of the paper.
By the way, a PDF of the current official state map can be found at the California Tourism web site, but it is less detailed than a map such as the 1956 highway map.
Technical Info: These are huge scans, running up to 700-800 KB in some cases. This was necessary in order to show the detail that this map provides. The areas shown by the scans overlap.


Mark Roberts
Oakland, California
E-mail: Please see the
Contact Information
page.