Sign assembly on Missouri 20 at Missouri 127 10 miles west of Marshall.

Sign assembly at Missouri Routes 19 and 161 in downtown Montgomery City.

Missouri 64A entering Bennett Springs State Park in Laclede County.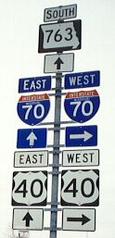 Sign assembly on Missouri 763 (the former US 63) at Interstate 70 and US 40 in Columbia.

Before Interstate 72 officially reached Hannibal, this eastbound sign assembly on US 36 and Business US 61 told travelers in 1998 that they were headed in the right direction. At that time, the new Mark Twain Memorial Bridge at Hannibal had not been completed.
Welcome to the Missouri Highways Route Log, a searchable log that lists all numbered highways in Missouri, including Interstates, U.S. routes, and state routes. State supplemental highways, which are assigned letters on a county-by-county basis, aren't included in this log. Also available is a separate route log for Missouri's original highway system, the Centennial Road System.
Note: The Route Log hasn't been updated since April 2013. While much of the information is still valid, please keep in mind that there may now be errors as a result. The Route Log is being retained for the time being as a service. (Note added March 7, 2020.)
Search the online Missouri Route Log...
Or look up the types of highways (Interstates, US highways, state highways, or any combination):
Or see the entire route log! (Text only | PDF Format)
Remember that the route log only shows numbered routes. It doesn't show letter-designated supplemental routes.
Where did this information come from?
Several maps and atlases were used in compiling this route log, along with my own observations and the observations of others, including David Backlin, Ben Prusia, John Fischer, and Jeremy Lance. Many thanks to them for their assistance!
Regarding Missouri maps, here are three excellent sources:
Missouri Official Highway Map

Published by the Missouri Department of Transportation (MoDOT) every two years, this map uses a five-color printing process to show all the state's supplemental highways. The fifth color is gray. Some business and spur routes also are shown. All numbered state and federal highways are shown.

Missouri's Conservation Atlas

Published by the Missouri Department of Conservation, this $25 atlas consists of MoDOT's detailed county highway maps. The maps are also available directly from MoDOT at a cost of 50 cents for each county map or $50 for the entire set covering all 114 counties. These maps are not updated frequently, but especially in rural areas, frequent updates are not required. This atlas is especially useful for tracking down spur and business routes.

Missouri Atlas & Gazeteer

In 1998, DeLorme Mapping added Missouri to the list of states for which it issues detailed atlases. While this atlas does not distinguish between limited-access and plain old two-lane highways, it is otherwise rich in detail. It also provides the names or numbers of county-maintained roads in almost all Missouri counties.

An additional note on sources

The 1969 Missouri Official Highway Map was also used in the preparation of this route log. It was the last official map to have inset maps for many of Missouri's smaller cities (those with approximately 5,000 people or more). Since then, the official state map has had inset maps of Cape Girardeau, Columbia, Jefferson City, Joplin, St. Joseph, and Springfield, as well as maps of the Kansas City and St. Louis metropolitan areas.


Mark Roberts
Oakland, California
E-mail: Please see the
Contact Information
page.